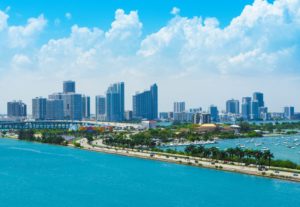 A Florida vacation can be a splurge, but you can also visit the Sunshine State on a budget. Here are a few tips to cut the cost of a vacation to Florida.
Fly to Secondary Airports
There are a handful of smaller airports in Florida; so many flights will land in these smaller airports. This does make for a longer drive to major cities, but it can save you hundreds of dollars on your travel costs. If you want to land at a major airport, you should make sure that you watch for Florida airline ticket sales to your preferred airport to make sure you get the best deal.
Look for Package Deals
Package deals can save you a lot of money on your trip. There are flight deals to Florida that are round trip. You can also find hotel packages that include a rental car, which are deeply discounted. There are many travel websites that make it easy to find these packages. However, you should make sure that you check the individual prices of the items before booking. Some companies will mark up their packages, which makes them a bad deal for you.
Plan to Visit in the Spring or Fall
Many vacationers visit Florida in the summer or the winter. So, this means that the best times for a budget vacation is during spring and fall. This is can save you around $30 per night on your hotel, which can quickly add up.
Think about Renting a Condo or a Vacation Home
A rental condo or home can seem like a very expensive choice, but it can save you a lot of money. The main reason why it can save you money is that you have access to a full kitchen. This makes it easy to buy groceries and prepare most of your meals. Preparing your own meals can easily save you a lot in restaurant bills. Some rentals come with a private pool, laundry, yard, and a garage.
Most rental homes can house over six people, so you can share one rental with the rest of your party. This can save your party thousands of dollars on hotels bills.
Eat Locally
If you are looking to cut your food bills, you should move away from the beachfront and ask the locals about where they like to eat. Housekeepers and bell staff at your resort can be a great resource for this information because they can tell you about really good cheap food that is close by.
Buy Theme Park Admissions
If you are planning to visit any theme parks, you should see if you can buy tickets online before you leave for your trip. Most websites will run deals and offer coupons during the off-season. There are also online only deals, like Groupon passes that you can use to save more.
Flight deals to Florida can save you a lot of money on vacationing in the Sunshine State. However, if you are not careful, you could end up spending hundreds of dollars more than you should.